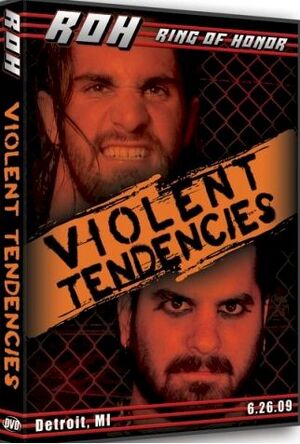 1. Grizzly Redwood beat Silas Young
2. Kenny King & Rhett Titus beat Erick Stevens & Brent Albright
3. Claudio Castagnoli vs. Nigel McGuinness went to a Double Countout
4. Kevin Steen & El Generico beat Josh Raymond & Christian Able
5. Six Man Mayhem: Austin Aries beat Delirious Joey Ryan, Petey Williams, Sami Callihan, & Rasche Brown when Aries pinned Delirious
6. Colt Cabana beat D-Lo Brown when he struck D-Lo with the ringbell behind the referee's back
7. ROH World Tag Title Match: The American Wolves beat Roderick Strong & KENTA to retain the titles
8. Steel Cage Match: Tyler Black pinned Jimmy Jacobs following a bloody, brutal fight that saw spikes and tables come into play; Following the match, a mob of AOTF members stormed the ringside area, climbing over the cage and through the door where the proceeded to beat Tyler. Jacobs, recovering from the fight, took the microphone and declared that "The Revolution Continues" before the AOTF members carried him out of the building.